Talented seniors from the Knoxville area took the stage at the Bijou Theatre on Nov. 14 for the Morning Pointe Foundation's Second Annual "Seniors Got Talent" showcase.
First place and the $500 cash prize went to Deborah Cable, age 70, for piano performance of a medley of "Rustle of Spring" and "Clair de Lune."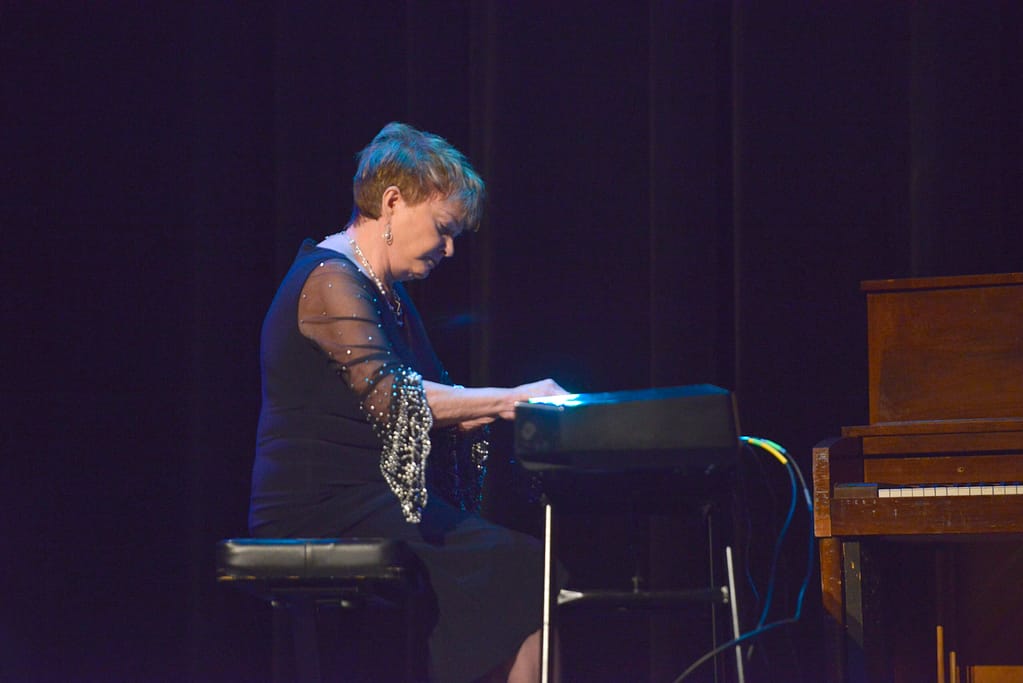 "I am elated, shocked,'" said Cable. "I have been at it a long time. Thank you, Morning Pointe – you have blessed me beyond measure with this opportunity. I feel very blessed to be in the company of these very talented seniors. We've still got it."
Cable started playing piano in grade school and has also added the pipe organ, cello and harp to her repertoire over the years. She accompanied the Gatlinburg Chorale for 12 years and was also pianist for the Sevier County Choral Department for around the same amount of time. She has played cello in the Oak Ridge Philharmonia and Laurel Strings Trio, plays the organ for Grace Lutheran Church in Knoxville and conducts two handbell choirs in Knoxville!
Second place went to singer and pianist Wayne Pugh, age 66, who performed "I Know the Lord Will Make a Way."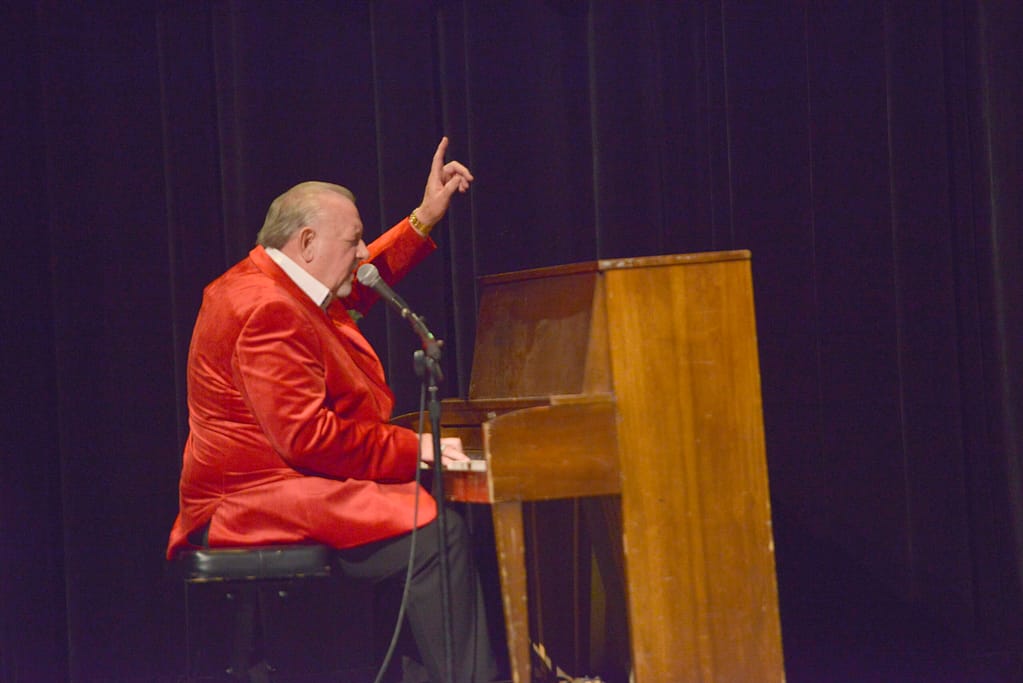 Pugh grew up in Mississippi but now lives in Sevierville. He learned the piano at 9 years old when a preacher put him at the piano and asked him to play. He was a missionary for 48 years and has traveled the world. Music has been part of his ministry, and he has played in 66 different countries.
"This is a beautiful theatre – never been here before, and I enjoyed the experience," said Pugh. "Thank you, Morning Pointe. I appreciate being able to be a part of this family."
The Early Morning String Dusters, a bluegrass band with members ages 64-78, took third place for their performance of "No Hiding Place."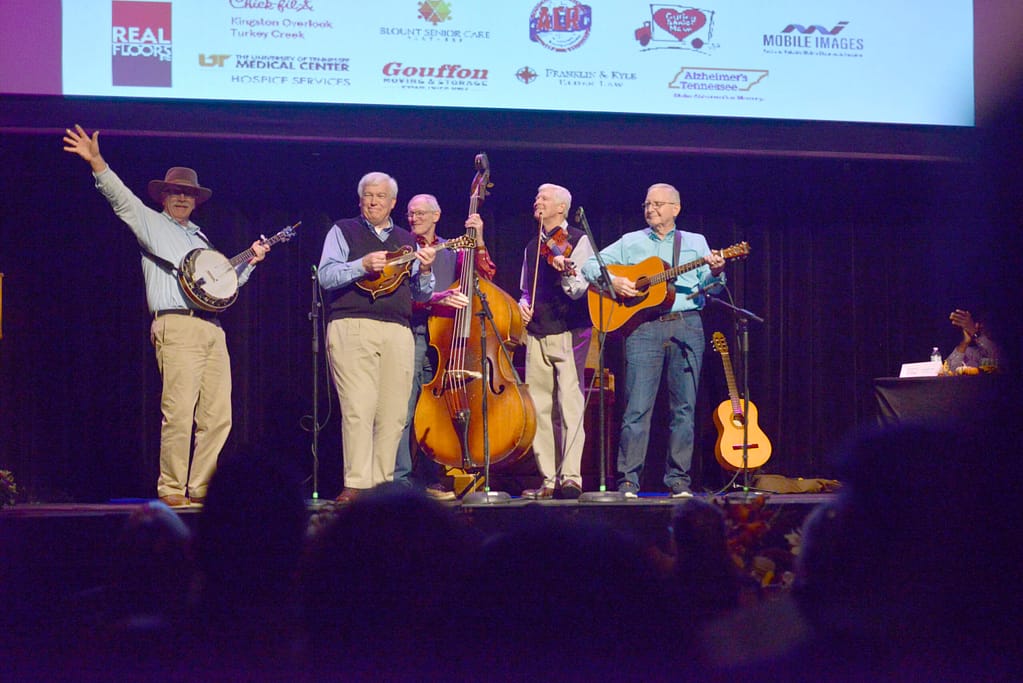 The band has played in a variety of venues, from the 1982 World's Fair in Knoxville to numerous churches and church events, the Great Smoky Mountains Heritage Center, the WDBX Blue Plate Special, grand openings, political events and Dollywood.
Henry Boerner, age 91, took home the new People's Choice Award, receiving the most audience votes for his vocal rendition of "Can't Help Falling in Love." A former director of advertising and marketing for the "Arkansas Gazette," this was Boerner's first professional performance. He dressed up as Elvis to portray his song.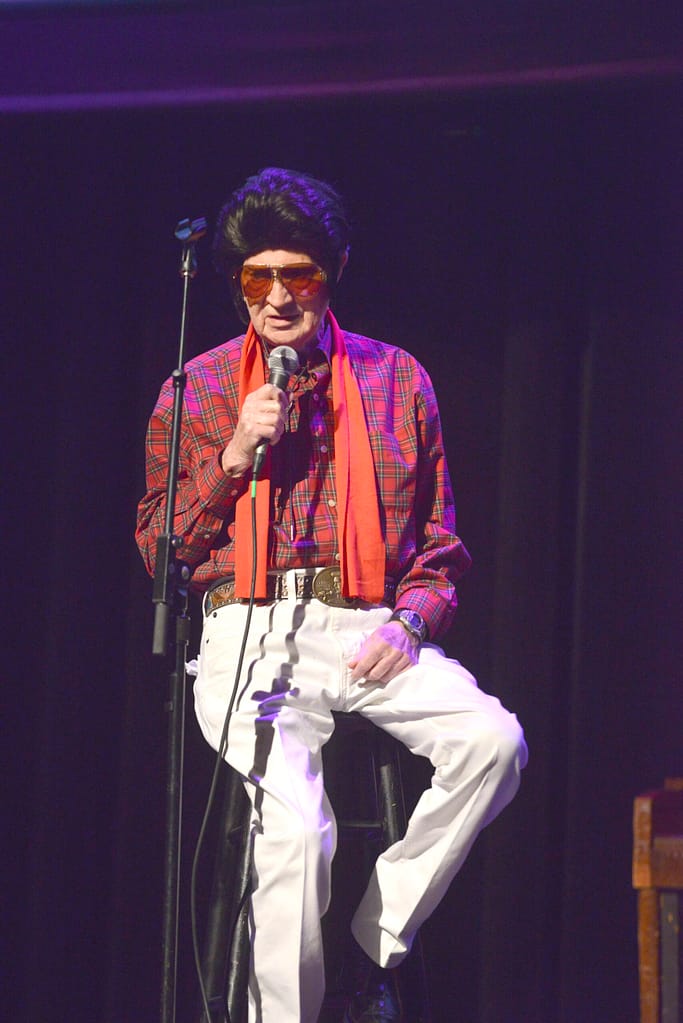 Ted Hall, evening anchor and managing editor for WVLT-TV Channel 8, served as the emcee for the evening.
The senior talent show was produced by the Morning Pointe Foundation in conjunction with Morning Pointe Senior Living. It raised more than $34,000 for the Foundation toward its mission of providing nursing scholarships at schools, including the Tennessee College of Applied Technology in Jacksboro and Tusculum University in Greeneville.
"The show was fantastic!" said Morning Pointe Foundation Executive Director Miranda Perez. "It was a good group of contestants. We broke a lot of records and made a lot of dreams come true for our senior performers"
Watch the full show…
Judges included Nicholas Horner, songwriter and founder of Make Music Knoxville; James Taylor, gallery owner of Geneva Galleries in Knoxville and winner of last year's Seniors Got Talent, Knoxville; Susan Richardson Williams, a leader in public affairs and business; and Susan Arp, independent fund developer and public relations consultant.
Morning Pointe also sponsors similar Seniors Got Talent competitions in Chattanooga and Franklin, Tennessee, as well as Lexington, Kentucky.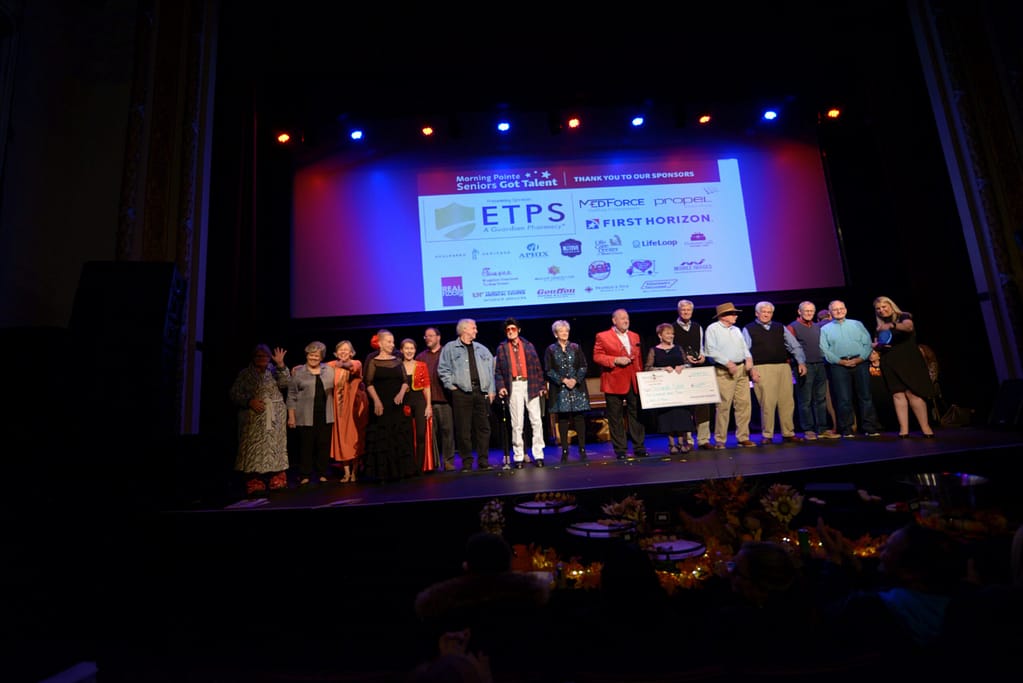 This year's presenting Sponsor was ETPS, A Guardian Pharmacy, and high-level sponsors were MedForce Staffing and Propel Insurance. Other sponsors who made the event possible were First Horizon, HealthPRO Heritage, Aphix, Native Design & Hardscape, Life Care Center of Blount County, LifeLoop, HouseCall Primary Care, Gouffon Moving & Storage, UT Hospice, Chick-fil-A at Turkey Creek, Blount Senior Care Partners, ACR Cleaning, Caring Senior Move, Mobile Images, Franklin & Kyle Elder Law, Cornerstone Caregiving, Alzheimer's Tennessee and Right at Home.
"Each year as the Morning Pointe 'Seniors Got Talent' competitions grow across the Southeast, the Morning Pointe Foundation remains committed to celebrating the talents of local seniors while supporting caregivers and nursing scholarships," added Morning Pointe CEO and co-founder Franklin Farrow. "This is such an important cause, and what better way to support it than to bring out such talented individuals and let them shine."
The Morning Pointe Foundation is the philanthropic arm of Morning Pointe Senior Living founded by Tennessee-based senior healthcare entrepreneurs Greg A. Vital and J. Franklin Farrow. The 501(c)3 nonprofit public service organization was created in 2014 to provide caregiver support programs, sponsor educational awareness events and fund clinical scholarships to advance the care of seniors throughout the Southeast.
Founded in 1997 by Tennessee healthcare entrepreneurs Greg Vital and Franklin Farrow, Morning Pointe Senior Living owns and operates 37 senior living, personal care and Alzheimer's memory care communities in five southeastern states and is celebrating its silver anniversary throughout 2022.
Learn more about the Morning Pointe Foundation…
Learn more about Morning Pointe Senior Living…