The stage is set for this year's Seniors Got Talent, Franklin variety show, produced by the Morning Pointe Foundation in conjunction with Morning Pointe Senior Living at The Franklin Theatre.
The event will take place at 7 p.m. on Oct. 11.
Acts on deck include a one-armed drummer, singers, pianists, ballroom dancers, a jazz clarinetist and a ukulele player, spanning ages 63-100!
Purchase tickets…
Lisa Spencer, chief meteorologist at News4 WSMV, will serve as the master of ceremonies, returning as host for the third year. Judges include Rich Eckhardt, one of the most well-known guitarists in Nashville; Alex Tinker IV, Open Mic Night emcee at Leiper's Fork's on "Fox and Locke"; Jim Hagaman, mayor of Spring Hill who has been involved in musical performance and theater; and Cassandra Coleman, a singer and Top 10 "American Idol" finalist.
Prizes will be awarded to the first, second and third place winners, chosen by judges, with the overall winner receiving $500. In addition, this year, The Morning Pointe Foundation has added a People's Choice Award in which audience members can pay $1 per vote to select a winner.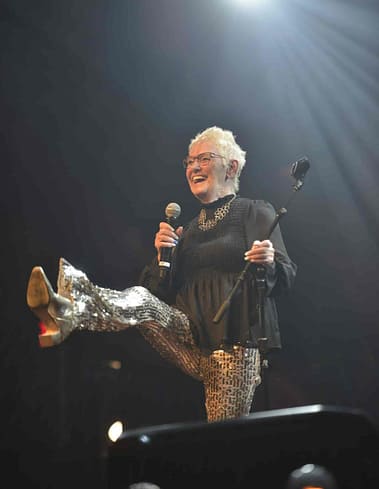 "We are so excited about this year's show," said Miranda Perez, Morning Pointe Foundation executive director. "Each contestant has a unique and fascinating story, and they showcase much of the great talent that the Nashville area has to offer."
Tickets for Seniors Got Talent, Franklin can be purchased at the door for $25 or online in advance from The Franklin Theatre website.
Those who wish to inquire about VIP sponsorships should contact Perez at 423-238-5330.
Morning Pointe also sponsors similar Seniors Got Talent competitions in Knoxville and Chattanooga, Tennessee, as well as Lexington, Kentucky.
The Morning Pointe Foundation is the philanthropic arm of Morning Pointe Senior Living founded by Tennessee-based senior healthcare entrepreneurs Greg A. Vital and J. Franklin Farrow. The 501(c)3 nonprofit public service organization was created in 2014 to provide caregiver support programs, sponsor educational awareness events, and fund clinical scholarships to advance the care of seniors throughout the Southeast.
Founded in 1997 by Tennessee healthcare entrepreneurs Greg A. Vital and Franklin Farrow, Morning Pointe Senior Living owns and operates 37 assisted living, personal care, and Alzheimer's memory care communities in five southeastern states and is celebrating its silver anniversary in 2022.
Learn more about the Morning Pointe Foundation…
Learn more about Morning Pointe Senior Living…