With Morning Pointe Foundation's Seniors Got Talent, Franklin variety show coming up on Tuesday, Oct. 11, the names of the participants have been released.
The event will take place at 7 p.m. at The Franklin Theatre. It is produced by the Morning Pointe Foundation in conjunction with Morning Pointe Senior Living.
Performers are:
J.T. Greenfield, a one-armed drummer, singer and keyboardist
Judy Street, a singer
Ed Winston, a jazz clarinetist
Creely Wilson, a pianist
Mel Perdue, a singer
Lloyd Smith III, a singer
Marjorie Suber, a pianist
Peggy Culp, a singer/ukulele player
B.J. McCreary, a singer/guitarist
Lane Wilkinson and Nancy Stuenkel, a dance duo
Participants range in age from 63-101. Only one act will take home the grand prize of $500. Second- and third-place winners will also receive awards, and Morning Pointe is introducing a brand-new People's Choice Award. Show attendees will be able to vote for their favorite act at $1 per vote, with funds going to the Morning Pointe Foundation.
"We are so excited about this year's show," said Miranda Perez, Morning Pointe Foundation executive director. "Each contestant has a unique and fascinating story, and they showcase much of the great talent that the Nashville area has to offer."
Lisa Spencer, chief meteorologist at News4 WSMV, will serve as the master of ceremonies, returning as host for the third year. Judges include Rich Eckhardt, one of the most well-known guitarists in Nashville; Alex Tinker IV, Open Mic Night emcee at Leiper's Fork's on "Fox and Locke"; Jim Hagaman, mayor of Spring Hill who has been involved in musical performance and theater; and Cassandra Coleman, a singer and Top 10 "American Idol" finalist.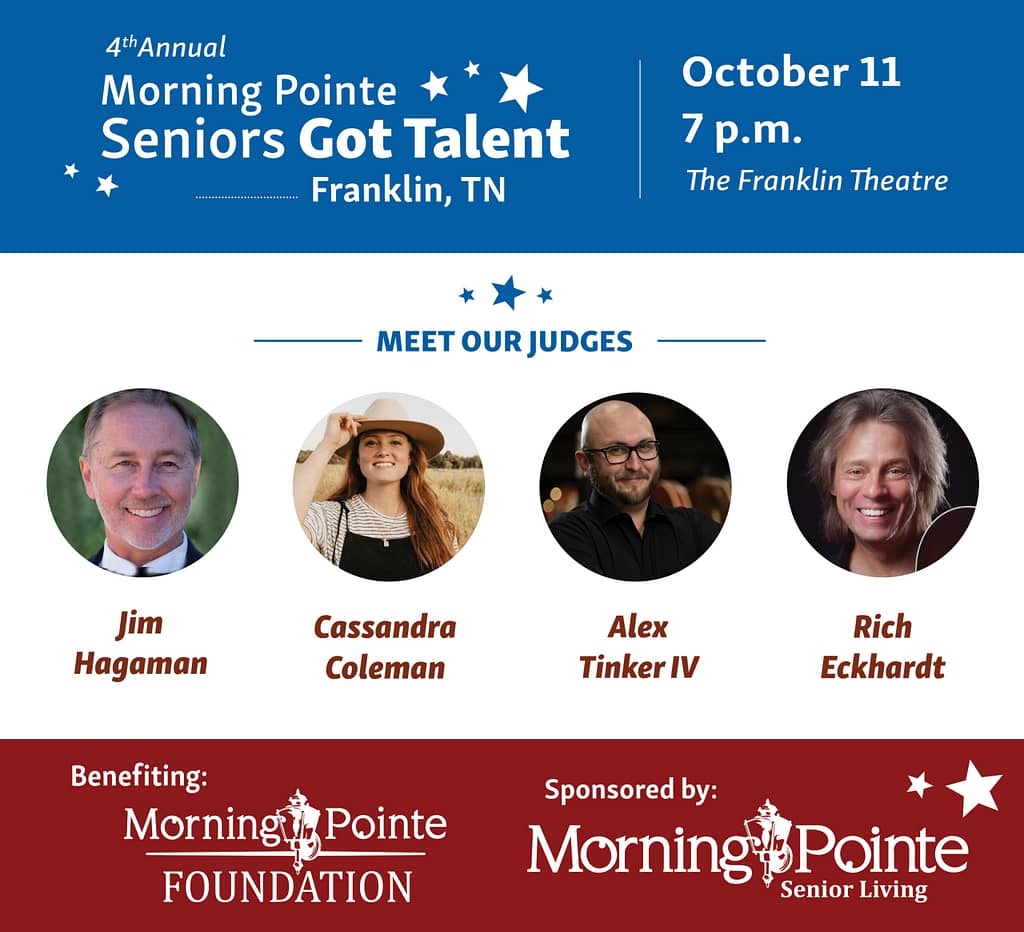 Tickets for Seniors Got Talent, Franklin can be purchased at the door for $25 or online in advance from The Franklin Theatre website: https://secure.franklintheatre.com/websales/pages/info.aspx?evtinfo=176559~cfe40b7d-1c56-4c4b-b937-600bdd7c5904&
Morning Pointe also sponsors similar Seniors Got Talent competitions in Knoxville and Chattanooga, Tennessee, as well as Lexington, Kentucky.
Our Presenting Sponsor is MTPS, A Guardian Pharmacy. Other sponsors include Propel Insurance, AccentCare, BlueSky House Calls, LifeLoop, Avalon Hospice, Amedisys Home Health & Hospice Care, Aveanna Home Health and Hospice, Senior Helpers, Landscape Management Co., and Alzheimer's Tennessee.
The Morning Pointe Foundation is the philanthropic arm of Morning Pointe Senior Living founded by Tennessee-based senior healthcare entrepreneurs Greg A. Vital and J. Franklin Farrow. The 501(c)3 nonprofit public service organization was created in 2014 to provide caregiver support programs, sponsor educational awareness events, and fund clinical scholarships to advance the care of seniors throughout the Southeast.
Founded in 1997 by Tennessee healthcare entrepreneurs Greg A. Vital and Franklin Farrow, Morning Pointe Senior Living owns and operates 37 assisted living, personal care, and Alzheimer's memory care communities in five southeastern states and is celebrating its silver anniversary in 2022.
Learn more about Morning Pointe Senior Living…
Learn more about the Morning Pointe Foundation…