Talented seniors from the greater Chattanooga area took the stage at the UTC Fine Arts Center Roland Hayes Concert Hall on Sept. 13 for the Morning Pointe Foundation's third annual "Seniors Got Talent" showcase.
First place and the $500 cash prize went to singer and guitarist Randall Farrell, 64. He performed an original song, "Mystery of Love."
"One day, I was just doing some noodling [freestyle playing on the guitar], and I said, 'This is a pretty melody,'" Farrell said of how he wrote his song. The song speaks of God's love for mankind. "There's nothing prettier than singing to Jesus."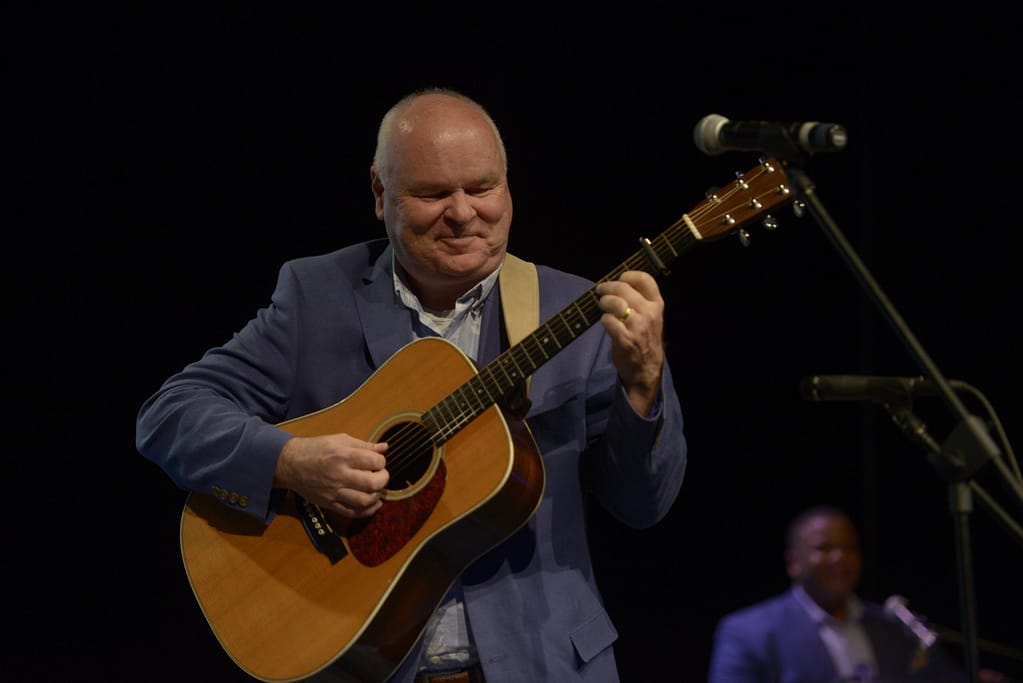 "I want to thank all the people at Morning Pointe," Farrell added. "My mother is a resident at Morning Pointe, and I applaud all they do for her. It's just wonderful to be able to give something back."
Farrell has written more than 50 songs, with four of them being published and recorded in the 1980s by a band called Whetstone, which he was part of. Besides singing and playing guitar, Farrell also plays the bass, mandolin, fiddle, dobro, keyboard and harmonica.
Second place went to John Ludington, age 76, another singer and guitarist. He performed his own original song, "She's All of We," which he wrote for his daughter.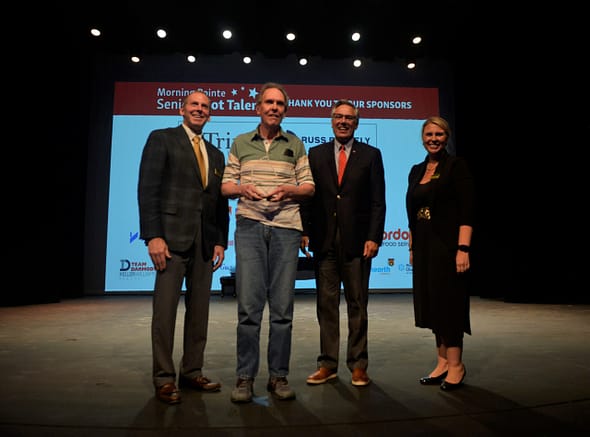 Folk music has always been Ludington's go-to. He has written around 1,000 songs and has made several recordings. He has performed in clubs, restaurants, country clubs and other locations. His day job before he retired in 2003 was as an accountant and purchaser for the health department.
The Choo Choo Diamonds, a group of four dancers ages 66-75, took third place with their swing routine to "Funky Mama."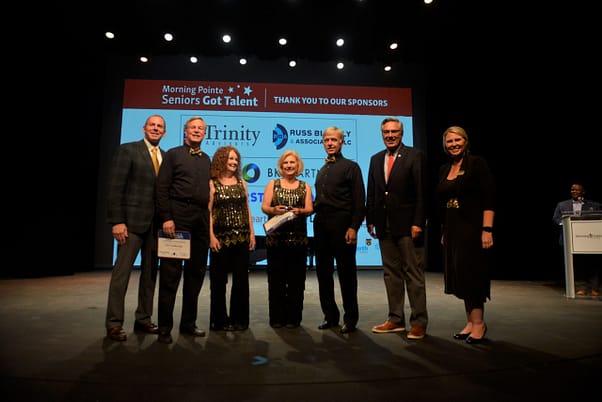 The Choo Choo Diamonds are members of the Choo Choo Chapter of USA Dance, a national nonprofit ballroom dance organization. "Dancing brought us together, and dancing keeps us young," is their motto.
Keith and Carolyn Bobo, both 71, took home the new People's Choice Award, receiving the most audience votes for their singing and piano duet of "His Grace is Sufficient."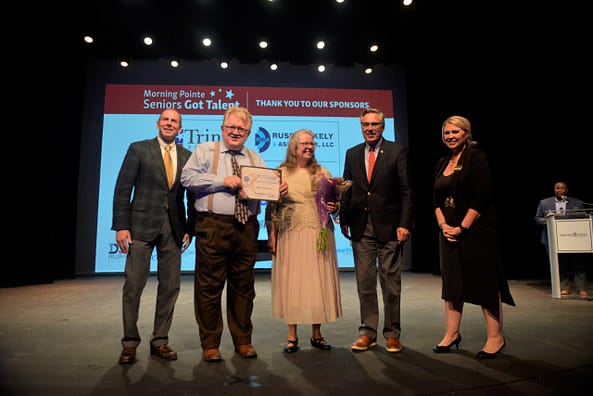 Greg Funderburg, anchor for WTVC Newschannel 9 morning/noon news, served as the emcee for the evening.
The senior talent show was produced by the Morning Pointe Foundation in conjunction with Morning Pointe Senior Living. It raised more than $19,000 for the Foundation toward its mission of providing nursing scholarships at schools like UTC, Chattanooga State Community College, Cleveland State Community College, the Tennessee College of Applied Technology – Athens and funding caregiver support programs.
"I was so pleased to have such an array of wonderful talent representing such a passion for the performing arts," said Morning Pointe Foundation Executive Director Miranda Perez. "These seniors were truly inspiring. Thank you again to all of our sponsors, including Gold Sponsor Russ Blakely & Associates/BKS Partners, as well as our other sponsors Trinity Advisors, First Horizon Bank, Yardi, James Fire Protection, Heart Legacy, Gordon Food Service, LifeLoop, Randall Promotions, Team Darmody/ Keller Williams, Heritage Funeral Home, CSCC, Guardian, Hearth Hospice and Supreme Restaurant Equipment."
Judges included Nina Coppinger, music teacher for Cadek Conservatory and St. Jude School; Rodney Van Valkenburg, executive director of the Chattanooga Theatre Centre; Steve Darmody, award-winning Christian recording artist; and Carla Pritchard, owner of The Granfalloon and Chattanooga Presents!
Morning Pointe's Seniors Got Talent is building on a 13-year tradition that began at Morning Pointe of Hixson, Tennessee. Morning Pointe also sponsors similar Seniors Got Talent competitions in Knoxville and Franklin, Tennessee, as well as Lexington, Kentucky.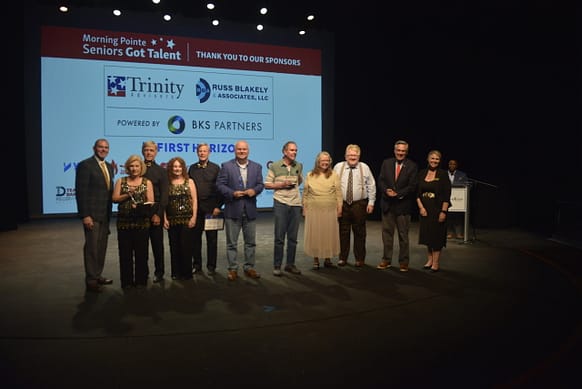 "Each year as the Morning Pointe 'Seniors Got Talent' competitions grow across the Southeast, the Morning Pointe Foundation remains committed to celebrating the talents of local seniors while supporting caregivers and nursing scholarships," added Morning Pointe president and co-founder Greg A. Vital. "This is such an important cause, and what better way to support it than to bring out such talented individuals and let them shine."
The Morning Pointe Foundation is the philanthropic arm of Morning Pointe Senior Living founded by Tennessee-based senior healthcare entrepreneurs Greg A. Vital and J. Franklin Farrow. The 501(c)3 nonprofit public service organization was created in 2014 to provide caregiver support programs, sponsor educational awareness events and fund clinical scholarships to advance the care of seniors throughout the Southeast.
Founded in 1997 by Tennessee healthcare entrepreneurs Greg Vital and Franklin Farrow, Morning Pointe Senior Living owns and operates 37 senior living, personal care and Alzheimer's memory care communities in five southeastern states and is celebrating its silver anniversary throughout 2022.
Learn more about The Morning Pointe Foundation…
Learn more about Morning Pointe Senior Living…