Lane Wilkinson and Nancy Stuenkel, the dancing duo who won the Franklin, Tennessee, Seniors Got Talent show in 2022, has been named Best of the Best of Seniors Got Talent 2022.
The Morning Pointe Foundation invited the public to vote on their favorite winner from the organization's four Seniors Got Talent showcases: Chattanooga, Franklin, and Knoxville, Tennessee, as well as Lexington, Kentucky.
Wilkinson and Stuenkel's fun dance routine to "Signed, Sealed, Delivered" came in first place in the Best of the Best contest, which took place from Feb. 22 – March 5. Their act received 258 votes out of the 783 total cast.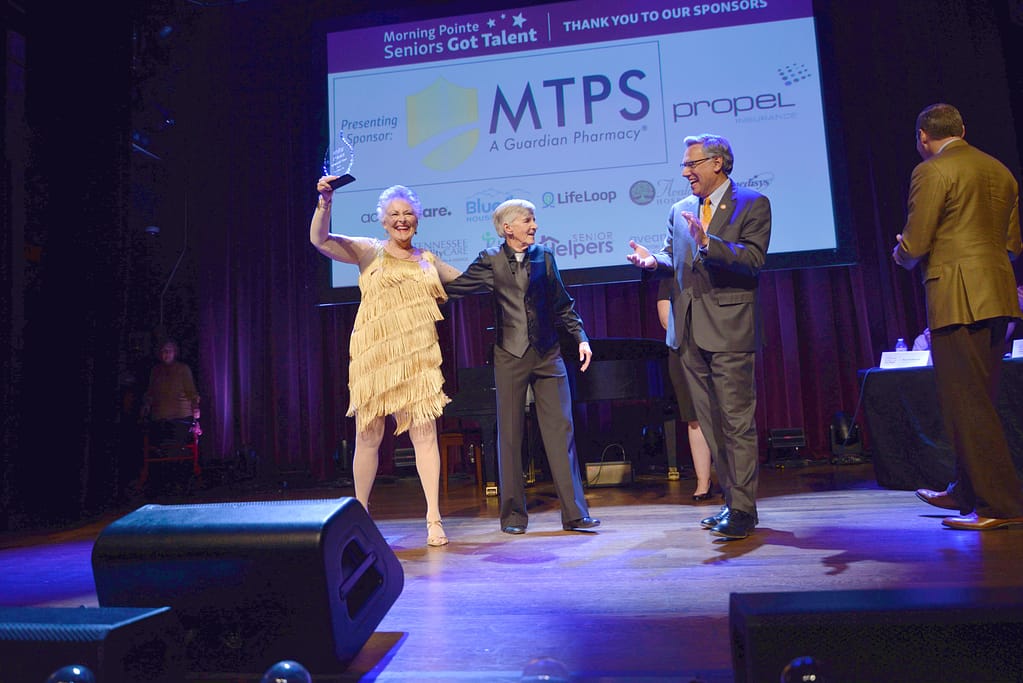 Both Stuenkel and Wilkinson started dancing in their 70s and met through the Dare 2 Dance Studio in Spring Hill.
"We are both so thankful for the opportunity and very excited to be named Best of the Best," said Wilkinson.
The dancers will receive four tickets each to a Seniors Got Talent show of their choice and a special two-minute talent showcase video of the duo.
Seniors Got Talent variety shows in each location are open to any talented seniors age 62 and older. Acts have included singers, musicians, dancers, poets, comedians and more.
"Congratulations to our fabulous dancers on their win – they put so much spirit into their routine, and you could tell they really enjoy dancing," said Miranda Perez, Morning Pointe Foundation executive director. "The Foundation is privileged to have given them another chance to share that talent and prove to everyone how much talent seniors still have to give."
The 2023 Seniors Got Talent schedule is as follows:
Chattanooga – Aug. 8 at the Silverdale Center Creekside Theatre
Lexington – Sept. 12 at the Lexington Opera House
Franklin – Oct. 17 at The Franklin Theatre
Knoxville – Nov. 14 The Bijou Theatre
All Seniors Got Talent shows take place at 7 p.m. local time and support the Morning Pointe Foundation. Tickets to each show will be $10 this year.
The Morning Pointe Foundation is the philanthropic arm of Morning Pointe Senior Living, founded by Tennessee-based senior healthcare entrepreneurs Greg A. Vital and J. Franklin Farrow. The 501(c)3 nonprofit public service organization was created in 2014 to provide caregiver support programs, sponsor educational awareness events, and fund clinical scholarships to advance the care of seniors throughout the Southeast.
Founded in 1997 by Tennessee healthcare entrepreneurs Greg A. Vital and Franklin Farrow, Morning Pointe Senior Living owns and operates 37 assisted living, personal care, and Alzheimer's memory care communities in five southeastern states.
Learn more about the 2023 Seniors Got Talent shows… Learn more about the Morning Pointe Foundation…